Southeast Summer Classic
Date: June 3, 2018
Location: Murfreesboro, TN
Judge: Lydell Meier, Clinton, TN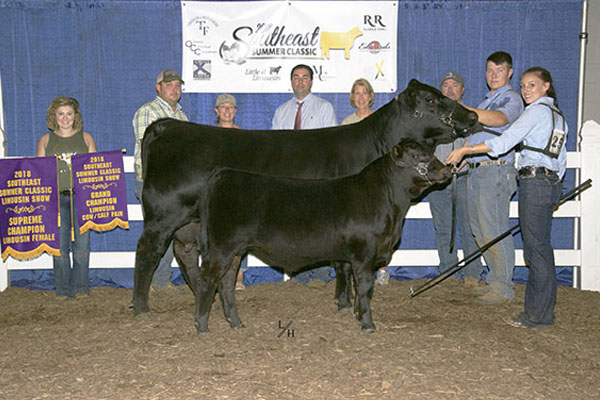 SUPREME CHAMPION FEMALE
CHAMPION COW-CALF PAIR
WLBL Avalon 608D
Exhibited by Will Blades, Midway, KY
CHAMPION LIMOUSIN FEMALE
AUTO Blackbird 428D
Exhibited by Keely Shultz, Danielsville, GA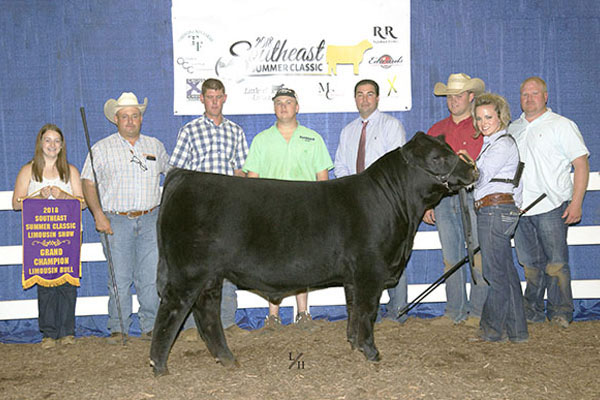 CHAMPION LIMOUSIN BULL
AUTO Kingdom Nom 131E
Exhibited by Pinegar Limousin, Springfield, MO
The Southeast Summer Classic was held in conjunction with the Eastern Regional Junior Show June 3, 2018 in Murfreesboro, Tennessee. Judge Lydell Meier of Clinton, Tennessee, placed the 66 entries.
Supreme champion female honors was claimed by the champion cow/calf pair, WLBL Avalon 608D ET is a 2/10/16 daughter of MAGS Zodiac exhibited by Will Blaydes of Midway, Kentucky.
Grand champion Limousin female honors went to AUTO Blackbird 428D ET, a 10/22/16 daughter of EXAR Powersource 4723B exhibited by Keely Shultz of Danielsville, Georgia.
Reserve champion cow/calf pair honors was claimed by ETGC Candy Apple, an 11/22/15 daughter of TASF Aristotle 752A exhibited by Abigail Tipton of Greenback, Tennessee.
The reserve champion Limousin female banner was claimed by WLBL Blackcap 725E, a 3/2/17 daughter of MAGS Aviator owned by Will Blaydes of Midway, Kentucky.
Pinegar Limousin of Springfield, Missouri, had the grand champion Limousin bull with AUTO Kingdom Kom 131E ET, a 9/10/17 son of AUTO Lucky Strike 118B.
The reserve champion Limousin bull was HWCB Eye Of The Storm 406E, a 3/17/17 son of ELCX Caesar 331C exhibited by Owen Cattle Co; Edwards Land & Cattle; Freebird Farms; and Cameron Bryant.
The show's premier breeder award went to Edwards Land & Cattle Co. and the Premier Exhibitor award went to HB Farms