Feedlot Cost of Gain Creeps Higher
Posted on
August 28, 2018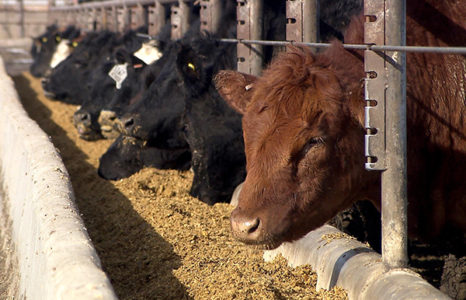 Feedlot Cost Of Gain Creeps Higher
by Steiner Consulting Group
Every month Kansas State University (KSU) provides an estimate of feedlot performance and feed cost summaries for feedlots in the state of Kansas in their publication Focus on Feedlots.
In the month of June, it was estimated that steers marketed had an average cost of gain per cwt. of $76.72, compared to $74.89 in June of 2017. Heifers average cost was $82.52 per cwt. compared to last year's $78.92 per cwt. Driving higher costs was significantly longer days on feed and heavier weights. This year both heifers and steers averaged days on feed near 180 days, 22 days longer than heifers were on feed last year and 17 days longer than steers.
Heifers entering Kansas feedlots had initial weights 28 pounds lighter than last year, averaging 689 pounds. Steers also were placed at lighter weights, 749 pounds compared to last year's 771 pounds. Lighter weights placed and more days on feed has allowed these cattle to exit feedlots at higher weights, too. Average final weights for steer closeouts were 50 pounds higher this year and heifers were 22 pounds higher. Daily rates of gain were slightly higher this year, estimated at approximately 0.11 pounds higher for steers and 0.03 pounds for heifers.
Feed costs in Kansas are slightly higher this year ahead of new crop corn and drought pressure in the southern plains. Corn and hay are taken at mid month to estimate feed per gain rates. Feed costs per pound of gain fell 14 cents for heifers marketed in June and was 25 cents lower for steers.
Even though nationally new crop corn is expected to be significantly cheaper, Kansas feedlots have yet to reap those benefits. May, June, and July corn costs were all over $3.90 per bushel, compared to prices all under $3.80 per bushel over those three months the previous year. Corn costs should moderate over the next couple of months. However, cost of gain could still be higher.
Alfalfa prices have moved more than $55 per ton higher for Kansas feedlots during the last three months and that spread appears to be widening. June ground alfalfa hay costs were $167, $58 per ton higher than June of 2017. July estimated alfalfa prices jumped to $175 per ton, more than $60 higher than last year. Alfalfa prices are not expected to decline this year. Drought has forced significantly higher supplemental feeding rates for cattle, soaking up supplies and drawing down inventories. Further, yields are not expected to overcome dry conditions, leading to additional increases in hay prices heading into winter.