Fort Worth Stock Show Open Show
Posted on
February 28, 2019
Fort Worth Stock Show
Medal Of Excellence Level I Open Show
February 2, 2019
Fort Worth, Texas
Judge: Brady Jensen, Brookings, SD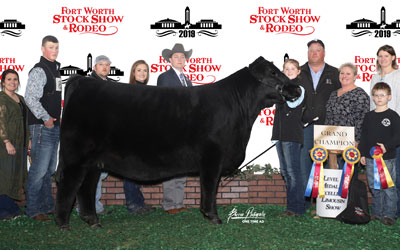 GRAND CHAMPION LIMOUSIN FEMALE
SHSK Elvera 710E
Exhibited by Carly Kolterman of Garland, NE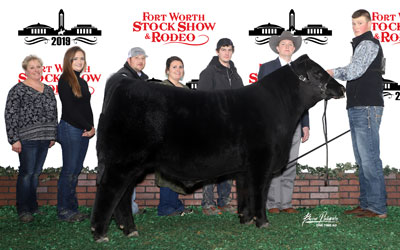 GRAND CHAMPION LIMOUSIN BULL
WYTP Bronx 42F
Exhibited by Wyatt Perry of Sarcoxie, MO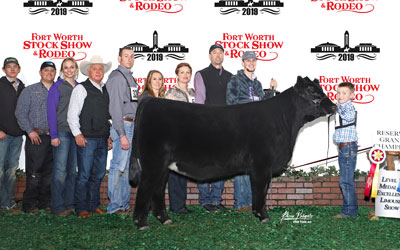 RS. GRAND CHAMPION LIMOUSIN FEMALE
AGRF Faith 25F
Exhibited by Beau London of Collinsville, TX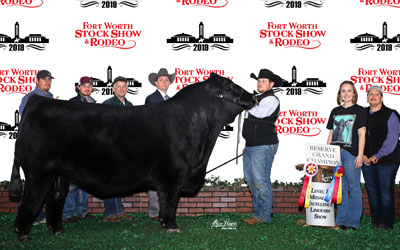 RS. GRAND CHAMPION LIMOUSIN BULL
LMCC Paramount 37E
Exhibited by Colt Schrader of Beggs, OK
Grand Champion Female: SHSK Elvera 710E ET is a 4/28/17 purebred daughter of TMCK Durham Wheat 6030X out of WLR Prada. She was shown by Carly Kolterman of Garland, Nebraska.
Reserve Grand Champion Female: AGRF Faith 25F, a 3/6/18 50% Lim-Flex daughter of EF Xcessive Force out of AUTO Cocoa 256Z is owned by Beau London of Collinsville, Texas.
Grand Champion Bull: WYTP Bronx 42F, a 2/7/18 46% Lim-Flex son of HUBB Bulletproof out of AUTO Chicago 423C, was exhibited by Wyatt Perry of Sarcoxie, Missouri.
Reserve Grand Champion Bull: LMCC Paramount 37E, a 2/6/17 50% Lim-Flex son of Colburn Primo 5153 out of AHFF Nalanie 830U, was shown by Colt Schrader of Beggs, Oklahoma.