Treftz Where Muscle Still Matters Annual Production Sale
Posted on
February 13, 2019
Treftz Where Muscle Still Matters Annual Production Sale
At The Ranch, Wetonka, SD
February 9, 2019
Sale Management: MC Marketing Management

Sale Summary
35.66 Bulls Averaged $4,058
11 Spring Bred Heifers Averaged $2,709
46.66 Lots Grossed $174,500 to Average $3,790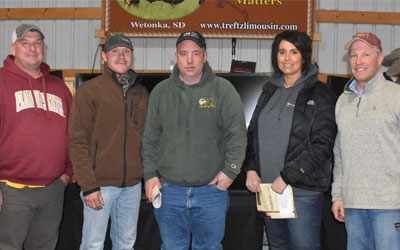 Jim Janisch, (left) Eden, SD, along with Tom Arneson, Florence, SD,
and Kyle Stern, Garden City, SD, all made leading purchases and
are pictured with Lori Hill and Glenn Treftz of Treftz Limousin.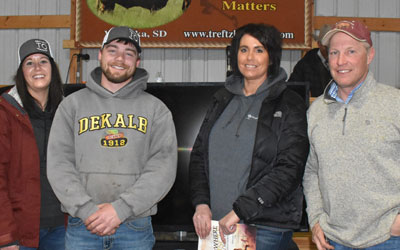 Aaron Henley and friend, Laura Peterson, (left) of Britton, SD,
purchased the Lot 1 bull from Lori Hill and Glenn Treftz.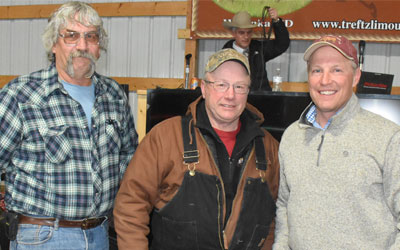 Glenn Treftz (right) thanked Alan Steinke of Idaho, Falls, ID,
and Milt Limesand of Marion, ND, for their purchases.
Lot 2—TREF Five Star 636F is a 3/25/18 red, homozygous polled, purebred son of TOMV Diesel 619D. Full possession and two-thirds semen interest was purchased by John Farret of Toston, Montana.
Lot 1—TREF Filthy Rich 918F, a 3/4/18 red, homozygous polled, purebred son of Wulfs Caper 3303C was purchased by Henley Farms of Britton, South Dakota.
Lot 21—TREF Encore 066E, an 8/26/17 red, homozygous, purebred son of ROMN Zingray 125Z was purchased by Casey Doud of Midland, South Dakota.
$4,500—Top-Selling Bred Female
Lot 41—TREF Electra 328E, a 3/19/17 homozygous polled, homozygous black, purebred daughter of VL Bruiser 409B sold bred to LFLC Checking Account. She was purchased by Dustin Peck of Harrisonville Missouri.