Hager Cattle Company 13th Annual Bull Sale
Hager Cattle Company 13th Annual Bull Sale
March 25, 2019
Kist Livestock, Mandan, ND
Sale Consultants: MC Marketing Management & Grassroots Consulting
Auctioneer: Chisum Peterson
Sale Summary:
66 Yearling Bulls Averaged $3,829
16 2-year-old Bulls Averaged $3,438
70 Commercial Heifers Averaged $1,000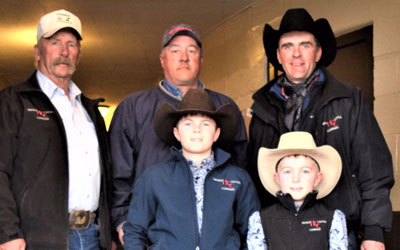 Paul and Jason Anderson of Leonard, ND,
were recognized as Hager Cattle Co. Customer of the Year
and are shown with Austin, Pitch and Tripp Hager.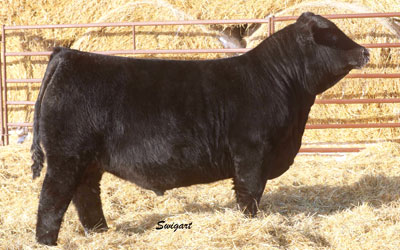 Lot 1—Top-Selling Lot—$9,750
AHCC Heartland 910F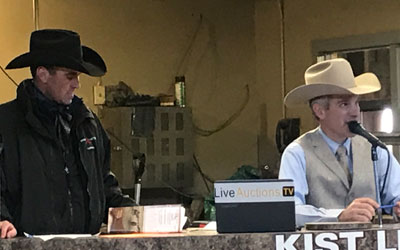 Sale host Austin Hager and
Auctioneer Chisum Peterson sold bulls
to a full house.
Lot 1—AHCC Heartland 901F ET, a 3/7/18 homozygous polled, homozygous black, 81% son of MAGS Anchor was purchased by Vorthmann Limousin of Treynor, Iowa, and Hunt Limousin Ranch of Oxford, Nebraska.
Lot 3—AHCC Finish Line 296F, a 2/7/18 polled, black, 62% Lim-Flex son of AHCC Angus Valley 911B was purchased by Lonely Valley Limousin of Creston, Nebraska, and Beckman Livestock of Roberts, Idaho.
Lot 39—AHCC Dakota Thunder 552F, a 3/1/2018 polled, black, 54% Lim-Flex son of AHCC Dakota Thunder 363D was purchased by D&D Cattle Inc. of Velva, North Dakota.