Southeast Summer Classic
Southeast Summer Classic
Level I MOE Show
June 9, 2019
Mufreesboro, TN
Judge: Andy Higgins, Auburntown, TN
68 Head Exhibited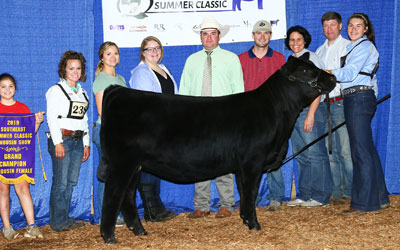 SUPREME CHAMPION FEMALE
AUTO Felina
Exhibited by Keely Shults, Danielsville, GA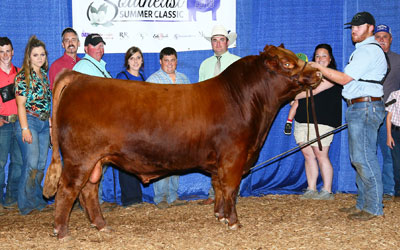 GRAND CHAMPION BULL
ELCX Excessive 758E
Exhibited by Edwards Land & Cattle Co., Beulaville, NC
RS. GRAND CHAMPION FEMALE
TASF Forever Classy 216F
Exhibited by John Crawford, Big Pool, MD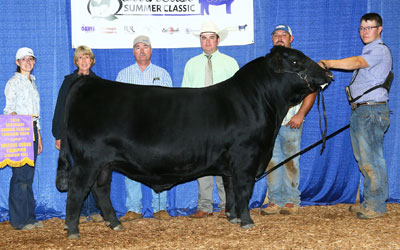 RS. GRAND CHAMPION BULL
WLBL Fast Foward 808F
Exhibited by Will Blaydes, Midway, KY
Supreme Champion Female: AUTO Felina, a 10/25/18 daughter of HA Cowboy Up 5405 out of AUTO Forever 219X. Exhibited by Keely Shultz, Danielsville, Georgia.
Reserve Champion Female: TASF Forever Classy 216F, a 3/21/18 daughter of CJSL Dauntless 6257D out of MAGS With Class. Exhibited by John Crawford, Big Pool, Maryland.
Champion Pair: WLBL Avalon 608D, a 2/10/16 daughter of MAGS Zodiac out of AUTO Avalon 222A. Shown with her 2/20/19 son of MAGS Cable by Will Blaydes, Midway, Kentucky.
Reserve Champion Pair: SSTO Encore 727E, a 3/6/17 daughter of PVF Insight 0129 out of SBLX Znote. Shown with her 3/23/19 son of ELCX Display 650D by Cameron Bryant, McMinnville, Tennessee.
Champion Bull: ELCX Excessive 758E, an 11/4/17 son of Riverstone Crown Royal out of AUTO Christy 8889R. Exhibited by Edwards Land & Cattle Co., Beulaville, North Carolina.
Reserve Champion Bull: WLBL Fast Forward 808F, a 2/3/18 son of MAGS Y-Axis out of WLBL Avalon 608D. Exhibited by Will Blaydes, Midway, Kentucky.