The Foundation 5 Sale
Posted on
October 13, 2019
The Foundation 5 Sale
October 5, 2019
United Producers Livestock Facility
Bowling Green, Kentucky
Hosted by Stephen, Emily and Carter Haynes, A C H Holdings, LLC
Auctioneer: Carroll T. Cannon
Sale Consultant: Helton Consulting
Volume buyer with 28 lots was A C H Holdings LLC
Sale Summary
13 Bred Fullblood Females Averaged $2,135
5 Fullblood Bulls Averaged 2,130
7 Fullblood Pairs Averaged 2,043
3 Purebred & Percentage Pairs Averaged 1,844
7 Purebred Bulls Averaged 1,836
18 Open Fullblood Heifers Averaged 1,667
14 Purebred & Percentage Females Averaged 1,368
67 Lots Grossed $120,250 to Average $1,794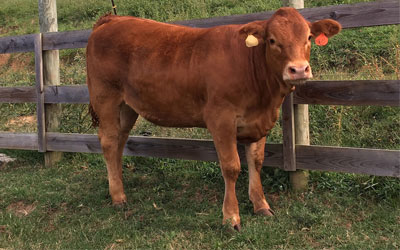 JL Diamond N Pearl 158F
Purchased by A C H Holdings LLC, KY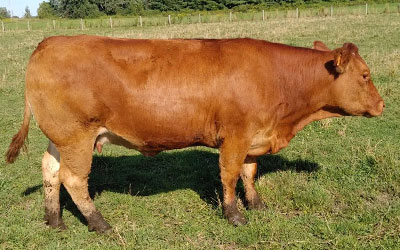 Elmgrove Daphne
Purchased by Thompson & Sons Limousin, WV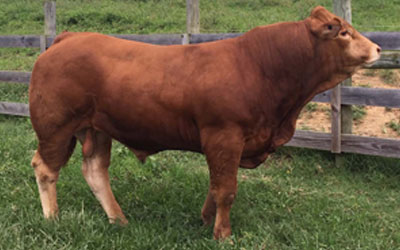 JL Fargo 48F
Purchased by Tommy Hall, TX
Lot 64—JL Diamond N Pearl 158F, a 9/27/18 homozygous polled fullblood daughter of ACHH Diamond 82D ET out of JELU Polled Pamela 261Z was purchased by A C H Holding LLC of Bowling Green, Kentucky. She was consigned by Jarnagin Limousin of Mascot, Tennessee.
Lot 67—Tommy Hall of Grapeland, Texas, purchased JL Fargo 48F, a 3/22/18 polled fullblood son of JL Billy Bob 16D out of AR Cream Puff Jean 5152C. He was consigned by Jarnagin Limousin.
Lot 29—Thompson & Sons Limousin of Wayne, West Virginia, purchased Elmgrove Daphne, a 4/18/16 fullblood daughter of Vertige out of Elmgrove Zippy.  She was consigned by Elm Grove Limousin of Elora, Ontario.
Danny and Connie Crockett of Crockett Rose Branch Farm of Lamar, Missouri, donated their semen collection from 43 bulls along with two semen tanks to the auction. The proceeds benefited the Fullblood Limousin Alliance Junior Association.