2019 Jackson County Young Farmers Showring Showdown
Posted on
December 18, 2019
Jackson County Young Farmers Showring Showdown
December 15, 2019
Perry, GA
Judge: Jonathan Perry, Fayetteville, TN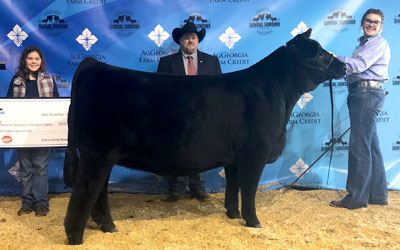 GRAND CHAMPION LIMOUSIN FEMALE
& RESERVE SUPREME CHAMPION FEMALE
AUTO Felina
Exhibited by Keely Shultz, GA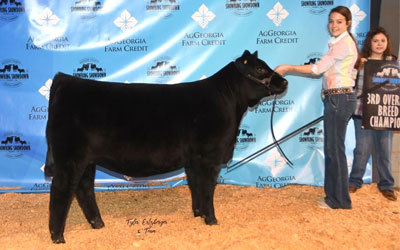 THIRD OVERALL LIMOUSIN FEMALE
PRF Gretchen
Exhibited by Anna Weaber, KY
Champion Limousin Female & Reserve Supreme Champion: AUTO Felina ET, a 10/25/18 polled, homozygous black 50% Lim-Flex daughter of HA Cowboy Up 5405 out of AUTO Forever 219X exhibited by Keely Shultz of Danielsville, Georgia.
Reserve Champion Limousin Female: HUBB Franny, a 3/5/18 polled, black 50% Lim-Flex daughter of HUBB Bulletproof out of MAGS Catherine exhibited by Austin Ertzberger of Carnesville, Georgia.
Third Overall Limousin Female: PRF Gretchen, a 4/10/19 polled, homozygous black 31% Lim-Flex daughter of RLBH Air Force One out of R&K Emulous 697 exhibited by Anna Weaber of Harrodsburg, Kentucky.
Showmanship:
Champion Overall Junior Showman: Keely Shultz, GA
Third Overall Junior Showman: Anna Weaber, KY
Champion Overall Senior Showman: Austin Ertzberger, GA
Reserve Senior Showman: Julia Weaber, KY