Limousin Heifer Reserve Supreme at Oklahoma Youth Expo Junior Show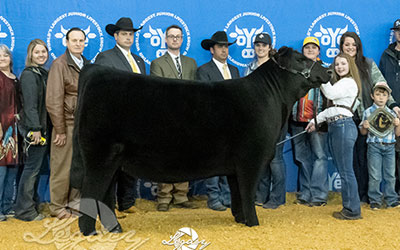 GRAND CHAMPION LIMOUSIN HEIFER
& RESERVE SUPREME CHAMPION
SHSK Fergie 810F
Exhibited by Karly Harris, OK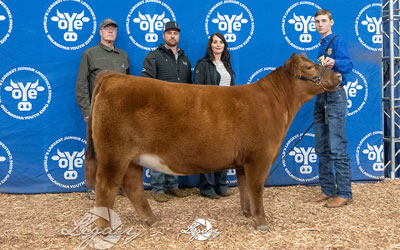 RS. GRAND CHAMPION LIMOUSIN HEIFER
FC Zesty 903G
Exhibited by Colton Sand, OK
Oklahoma Youth Expo Limousin Female Show
March 15, 2020
Oklahoma City, Oklahoma
Judge: Matt Copeland, Nara Vista, New Mexico
65 Heifers Exhibited
Grand Champion Limousin Female and Reserve Supreme Champion:
The Division IV champion went on to be named the Grand Champion as well as the Reserve Supreme Champion over all breeds. SHSK Fergie 810F, a 4/4/18, homozygous black, homozygous polled 43% Lim-Flex daughter of Colburn Primo 5153 out of WLR Prada. She was exhibited by Karly Harris of Lawton, Oklahoma.
Reserve Grand Limousin Champion Female:
The Division II champion was named the reserve grand champion female for Colton Sand of Stillwater, Oklahoma. FC Zesty 903G is a 1/12/19 red, polled 34% Lim-Flex daughter of Plum Creek Paradox 161B out of CYWD Zesty 22Z.
Bronze Medal Limousin Female:
The Division I champion was named the Bronze Medal female for Madison Craig of Oklahoma City, Oklahoma. JCL Katti LNLM 91G is a 6/3/19 black, polled 75% Lim-Flex daughter of TASF Crown Royal 960C out of JCL Katniss LNLM 207Z.
Showmanship Winners:
Champion Junior: Sage Hanrahan of Okarche
Champion Intermediate: Peyton Collum of Guthrie
Champion Senior: Faith Spriggs of Afton