Peterson's L7 Bar Limousin 42nd Annual Sale
Peterson's L7 Bar Limousin 42nd Annual Sale
April 15, 2020
Pukwana, South Dakota
Auctioneer: C.K. "Sonny" Booth
Sale Consultants: MC Marketing Management & Grassroots Genetics
Sale Summary
47 Bulls Averaged $3,819
6 Open Heifers Averaged $3,250
Cattle sold into 8 states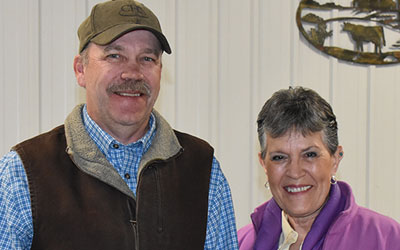 Wendy Peterson (right) thanks
Dave Schriever of Philip, SD, for his purchases.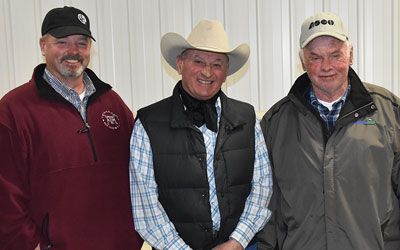 Rod Peterson (center) thanks
Jay and Joe Wilder of Snook, TX,
for their purchases of nine bulls and two females.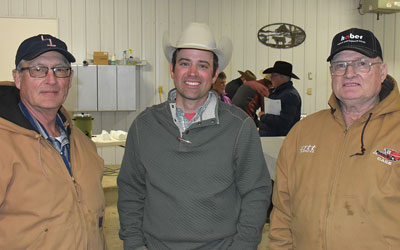 Cade Peterson (center) thanks
Verlin and Duane Winckler of Wagner, SD,
for their bull purchase.
Lot 1—L7 8085F ET, a 9/15/18 homozygous black, homozygous polled 50% Lim-Fex son of PVF Insight 0129 out of L7 Yuma 122Y was purchased by Wilder Family Limousin of Snook, Texas.
Lot 8—L7 9033G, a 3/14/19 black, homozygous polled 81% son of CELL Envision 7023E out of Miss L7 567C was purchased by Symens Brothers of Amherst, South Dakota
Lot 5—L7 9038G, a 3/2/19 red, homozygous polled purebred son of LFLC Big Country 759B out of Miss L7 502C was purchased by Winckler Brothers of Wagner, South Dakota .
Lot 7—L7 9025G, a 2/26/19 black, homozygous polled 71% Lim-Flex son of TMCK Cash Flow 247C out of Miss L7 407B was purchased by Daran Sagvold of McCleod, North Dakota.