Oklahoma Limousin Field Day
Oklahoma Limousin Breeders Association
Tenth Annual Ron Wayland Memorial Field Day
in conjunction with the OJCA Preview Show
June 6, 2020
Stillwater, OK
Judge: Kevin Jensen, Courtland, Kansas
25 Head Exhibited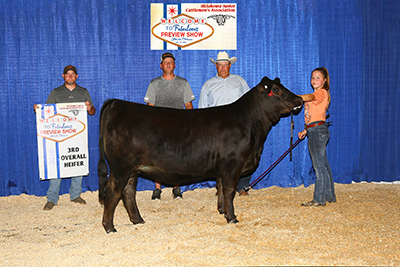 Grand Champion Female and Third Overall of Preview Show
EWLK Debra Dawn 144G
Exhibited by Eliza Truel of Sperry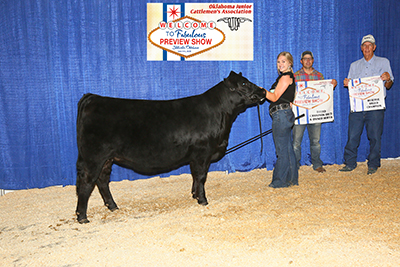 Reserve Grand Champion Female and Grand Champion Bred & Owned Female
LANS Feeling Whitney
Exhibited by Lana Sherry of Yukon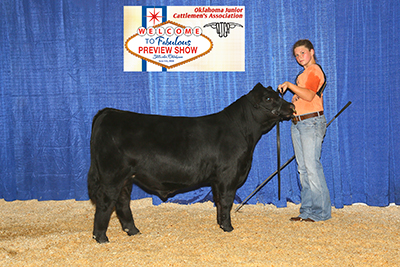 Grand Champion Bull
MLP Gunpowder
Exhibited by McKinlee Palmatary of Durant
Grand Champion Female and Third Overall of Preview Show: EWLK Debra Dawn 144G, a 4/19/19 daughter of RLBH Air Force One exhibited by Eliza Truel of Sperry.
Reserve Champion Female and Grand Champion Bred & Owned Female: LANS Feeling Whitney 101F, a 11/22/18 daughter of TASF Crown Royal exhibited by Lana Sherry of Yukon.
Third Best Female: SSTO Foxy, a 10/25/18 daughter of EXAR Classen exhibited by Peyton Collum of Guthrie.
Grand Champion Bull: MLP Gunpowder, a 11/25/19 son of HUBB Bulletproof, exhibited by McKinlee Palmatary of Durant.
Reserve Champion Bull: WB Fire Power, a 10/26/2018 son of WB Driver exhibited by Drew Wright of Miami.
Reserve Champion Bred & Owned Female: TLRP Genesis, a 8/27/19 daughter of CJSL Dauntless exhibited by Taylor Post of Miami.
Showmanship Winners:
Novice: Karson Nowlen of Holdenville
Junior: Kendal Spriggs of Afton
Intermediate and Overall: Lana Sherry of Yukon
Senior: Faith Spriggs of Afton