2020-2021 North American Junior Association Board of Directors
2020-2021 North American Limousin Junior Association Board of Directors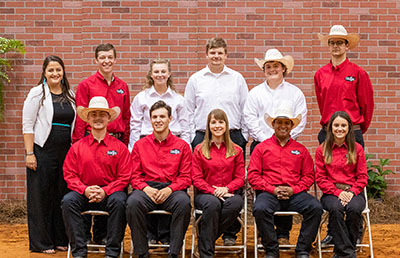 Back Row, from Left—Katie Campbell, Riley Smith, Faith Spriggs, Brady Edge, Colton Barton and Wiley Fanta.
Front Row, from Left—Clayton Schowe, Tristan Gulotta, Shelby Hubbard, Zane Gavette, Lindsey Gulotta.
President—Clayton Schowe of Cassville, Missouri
Vice-President—Tristan Gulotta of Independence, Louisiana
Secretary—Shelby Hubbard of Miami, Oklahoma
Treasurer—Zane Gavette of Port Orchard, Washington
Ex-Officio—Lindsey Gulotta of Independence, Louisiana
Directors—Colton Barton of Jarrell, Texas; Brady Edge of West Branch, Iowa; Faith Spriggs of Afton, Oklahoma; Wiley Fanta of Starbuck, Minnesota; Riley Smith of Macomb, Illinois.
NALF Director of Activities—Katie Campbell of Leavenworth, Kansas
Retired Board Members—Randa Taylor of Decatur, Texas and Colt Schrader of Beggs, Oklahoma