MLBA Hall of Fame Induction – Morris Bros.
Hall of Fame Induction – Morris Bros.
Sue and the late Denny Morris of Morris Bros. Cattle, Ash Grove, were inducted into the Missouri Limousin Breeders Association (MLBA) "Hall of Fame" May 21, 2021. The ceremony took place during the MLBA annual meeting, banquet and benefit auction at the Bennett Room Banquet Hall near Lebanon, Missouri.
Both Denny and Sue Morris grew up together, showing cattle at local fairs and shows. They were married in 1974, set their roots in the Fair Grove, Missouri, area and raised their two sons, Chad and Dusty.
They began with Chianina show cattle, but soon met up with Zybach/McMurtrey Limousin. Alan McMurtrey was the MLBA president, and he was a big influence on the Morris family taking a liking to Limousin cattle. Morris Bros. Cattle developed and displayed their cattle at a variety of shows. The boys maintained the show cattle, as well as working for Dennis Alt and Kent Abele at the Missouri State Fair. The annual Morris family vacation every fall was their trek to NAILE in Louisville, Kentucky, spending 10 days working together and showing cattle.
While the boys were young, Morris Bros. Embroidery was started as a way to provide extra income. The boys helped at the shop and continued to focus their attention on the show cattle during junior and senior high school while Denny kept the cattle operation going. Through their embroidery enterprise, Denny and Sue donated significantly to the Limousin Senior and Junior Associations.
Sue spent 15 years working for the Missouri State University Agriculture Department, retiring in 2018. Dennis passed away in March of 2019 following heart surgery. Chad and his wife, Sarah, have a four-year-old son, Max. Dusty and his late wife, Jill, have two daughters, Kelsey and Ryleigh. The Morris girls have shown cattle and taken home many championship titles at the state, regional and national levels.  Dusty has a cattle fitting business and is also a professional photographer, taking pictures for cattle shows, advertising and catalogs.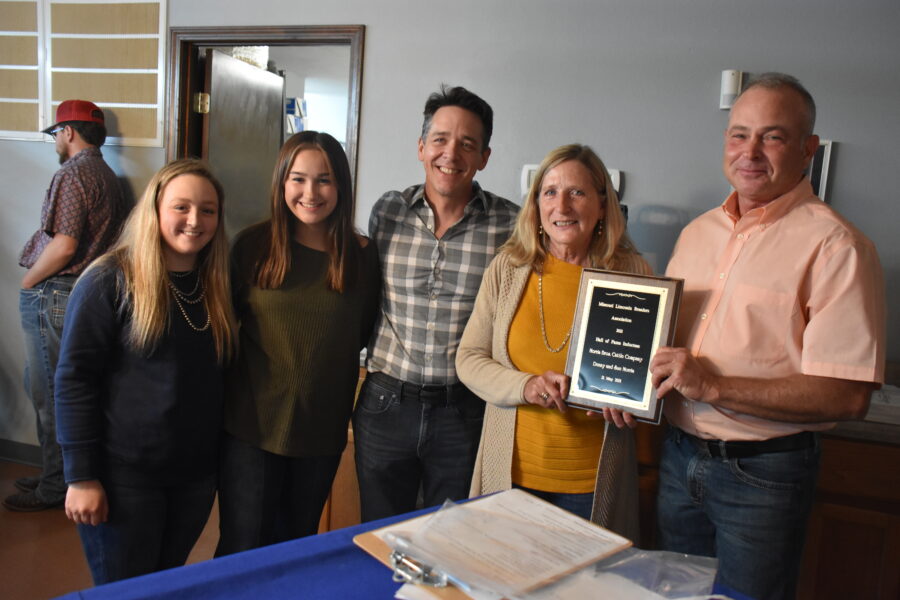 Jack Glendenning presented the MILBA "Hall of Fame" plaque to Morris Bros. Cattle. Accepting the award are Ryleigh, Kelsey, Chad and Sue Morris.