NALF Seats New Board
Posted on
January 21, 2019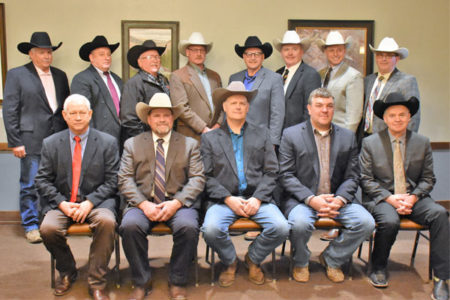 NALF Seats New Board
North American Limousin Foundation (NALF) members elected new directors and officers to its board January 14, 2019, during the association's annual meeting in Denver, Colorado.
Front row, from left: Gary Fuchs, Cameron, TX, president; Joey Freund, Elizabeth, CO, vice president; Curt Wieczorek, Mount Vernon, SD, secretary; Dan Hunt, Oxford, NE, member at-large; and Mark Anderson, Executive Director.
Back row, from left: Wade Beckman, Roberts, ID; Troy Gulotta, Independence, LA, new director; Bruce Lawrence, Anton, TX; Joe Moore, Raphine, VA; Randy Corns, Altoona, KS; Ronn Cunningham, Rose, OK, new director; Kevin Ochsner, Kersey, CO, new director; and Jerry Wulf, Morris, MN, new director.
Not pictured: Mark Barker, Newcastle, OK, treasurer; Bret Begert, Allison, TX, ex-officio; and director Charles Linhart, Leon, IA.
Retiring members: Dexter Edwards, Beulaville, NC; Jim Bob Hendrickson, Adair, OK; Austin Hager, Karlsruhe, ND; and Greg Blaydes, Midway, KY.