Missouri Limousin Pioneer Bob Wies Passes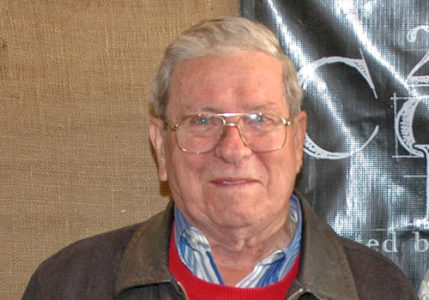 Missouri Limousin Pioneer Bob Wies Passes
Limousin Pioneer Bob Wies of Wies Limousin Ranch, Wellsville, Missouri, passed away June 5, 2019, at the age of 87.
Bob and his wife, Euvonne, were raised on farms in eastern Missouri, so being in the cattle business was a natural fit. They purchased the original farm as an investment property in the mid '70s. In 1975, after using Angus bulls on commercial cows, the couple purchased a three-quarters blood and a purebred Limousin bull.
"When we saw those calves the next spring we sold the whole works and bought about 40 halfblood Limousin females and started breeding up from there," Bob said. "Those Limousin-sired calves had so much more growth than what we were used to."
The Wies herd started small and over time blossomed into a herd of nearly 200 mother cows. The operation also raises its own alfalfa and grass hay. In addition to offering their genetics through a variety of marketing outlets, the Wies program could be found promoting the breed and their program at various livestock shows including: Missouri State Fair, Southeast Summer Classic and Fort Worth Stock Show as well as the big four—the American Royal, Denver, Louisville and the National Junior Limousin Show and All-American Futurity. To date, WLR has either shown or bred animals that have earned 27 grand or reserve grand titles nationally.
Over the years, under the guidance of Bob, the Wies program was at the forefront of the Limousin business, not only in Missouri, but nationwide. Many accolades were bestowed upon the program over the years, including being inducted into the Missouri Limousin Breeders Hall of Fame in 1998.
The Wies family also maintained a successful construction business which was a family affair with three generations working with the company. The company specializes in commercial buildings in need of drywall, structural steel, metal stud work or acoustic ceilings.
Bob and Euvonne were also stalwart fans of both the St. Louis Cardinals and St. Louis Rams, holding season tickets for many years.
For 44 years, Bob Wies was a leading promoter and propagator of Limousin cattle while giving back to the juniors as well as his state, regional and national associations.
UPDATED 6/11/2019:
Visitation: Baue Funeral & Memorial Center, 3950 West Clay, 63301
Sunday June 16, 2019 4:00 .pm. to 8:00 p.m.
Funeral Service: St. Joseph Catholic Church, 1355 Motherhead Rd., Cottleville, MO 63304
Monday June 17, 2019 10:00 a.m.