Curtis and Marci McClellan Named Iowa Limousin "Commercial Producers of the Year"
Posted on
February 28, 2023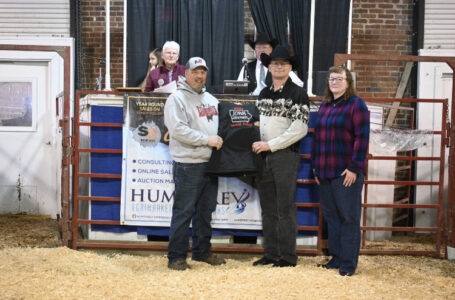 Jason Boyer presented the award to Curtis & Marci McClellan.
Curtis and Marci McClellan of Guthrie Center, Iowa, were named by the Iowa Limousin Association as their "Commercial Producers of the Year". They were presented with a plaque and other awards during the Iowa Beef Expo Limousin Show February 12, 2023, at the state fairgrounds in Des Moines.
Curtis learned the cattle business from his father, Lyle, and after an extensive military career, received his degree from Iowa State University, majoring in Agricultural studies. He returned to the farm in 1992 and began to row crop and raise a commercial herd of cows.
Curtis was introduced to using Limousin bulls in 1996. It all started when he purchased 240 acres of pasture. At the time, he was not sure of the best way to stock the pasture; however, a neighbor, Marilyn Moore of R&M Limousin, contacted him about taking care of the R&M herd.  Curtis managed that herd until 2009.
Splitting time between Offutt Air Force base in Bellevue, Nebraska, and the farm to manage a herd of Limousin cows, Curtis again was called to duty in 2003. He was deployed and served in the Iraqi Freedom Operation for 14 months. Curtis was promoted to Command Sergeant Major and commanded a battalion as part of Operation Enduring Freedom in Afghanistan in 2012.
Curtis returned home and began farming again after his military career. The McClellans purchased a herd of 100 first-calf, black Angus heifers in Montana and brought them to Iowa.  He chose to breed the heifers to a Limousin bull because of their feedlot efficiency, dressing percentage and improved docility. He was pleased with the temperament of the Limousin cattle. He has purchased several Limousin bulls from Vorthmann Limousin of Treynor, Iowa, since 2015 and also from Bosch Limousin of Indianola, Iowa.
The couple currently row crop 270 acres and care for a 110 head cow/calf herd. They market their calves at the Dunlap Livestock Auction in Dunlap, Iowa. They also maintain a direct sale program for 10% of their fed cattle, butchering at the Atlantic Lockers in Atlantic, Iowa. Curtis retired from the Iowa National Guard December 31, 2020, after 35 years of service.
Congratulations to Curtis and Marci McClellan on their well-deserved honor and thank you for your service to our country!