Doug Henley Awarded South Dakota "Commercial Producer of the Year"
Posted on
February 28, 2023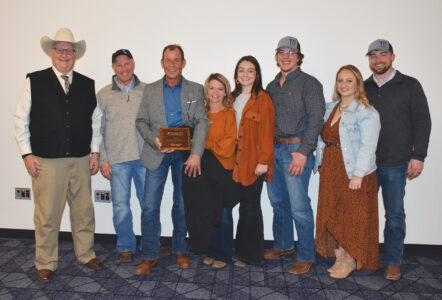 Dean Summerbell and Glenn Treftz presented the award to the Henley family. 
Doug Henley of Britton, South Dakota, was awarded the South Dakota Limousin Association "Commercial Producer of the Year". Doug and Shelly, their sons, Aaron and Matt, and daughter, Madison, were honored at the South Dakota Limousin Association annual meeting, banquet and benefit auction on February 2, 2023. This event was held in conjunction with the Black Hills Stock Show in Rapid City. They were nominated by Glenn Treftz of Wetonka, South Dakota.
Doug was raised on his family farm and began using Limousin genetics in the 1970s, purchasing bulls from Symens Brothers in Amherst, South Dakota. They have continued to buy Limousin bulls, also purchasing purebred bulls from other Limousin breeders including Glenn Treftz, Kelly Yorga and Wulf Cattle. 
Their 325-head cow herd is high-percentage Limousin crossed with Angus. Doug said that 90% of his cowherd is home raised. He has purchased some heifers from Symens Brothers, Treftz Limousin and Hassebroek Limousin. They background their spring production to approximately 1,000 pounds and market them at the Aberdeen Sale Barn in February and March. They prefer calves that are long bodied with growth, muscle and efficiency. Doug said he also looks at muscle tone and structure. In addition to the herd, the Henley operation consists of corn, beans, alfalfa and pasture on 7,000 acres in northern South Dakota.
When they began purchasing Limousin genetics, Doug was young enough to either "catch up to them or run away from them". He stated the breeders of Limousin cattle have done an exceptional job dispelling the Limousin reputation of being a little "quicker footed". Cattle react to the people they are being handled by, and as the saying goes, "slow and steady wins the race". Quiet cattle gain better and raise better calves. Doug stressed the biggest improvement in our breed is "Docility, Docility and Docility". 
Congratulations to the Henley family for this prestigious honor!