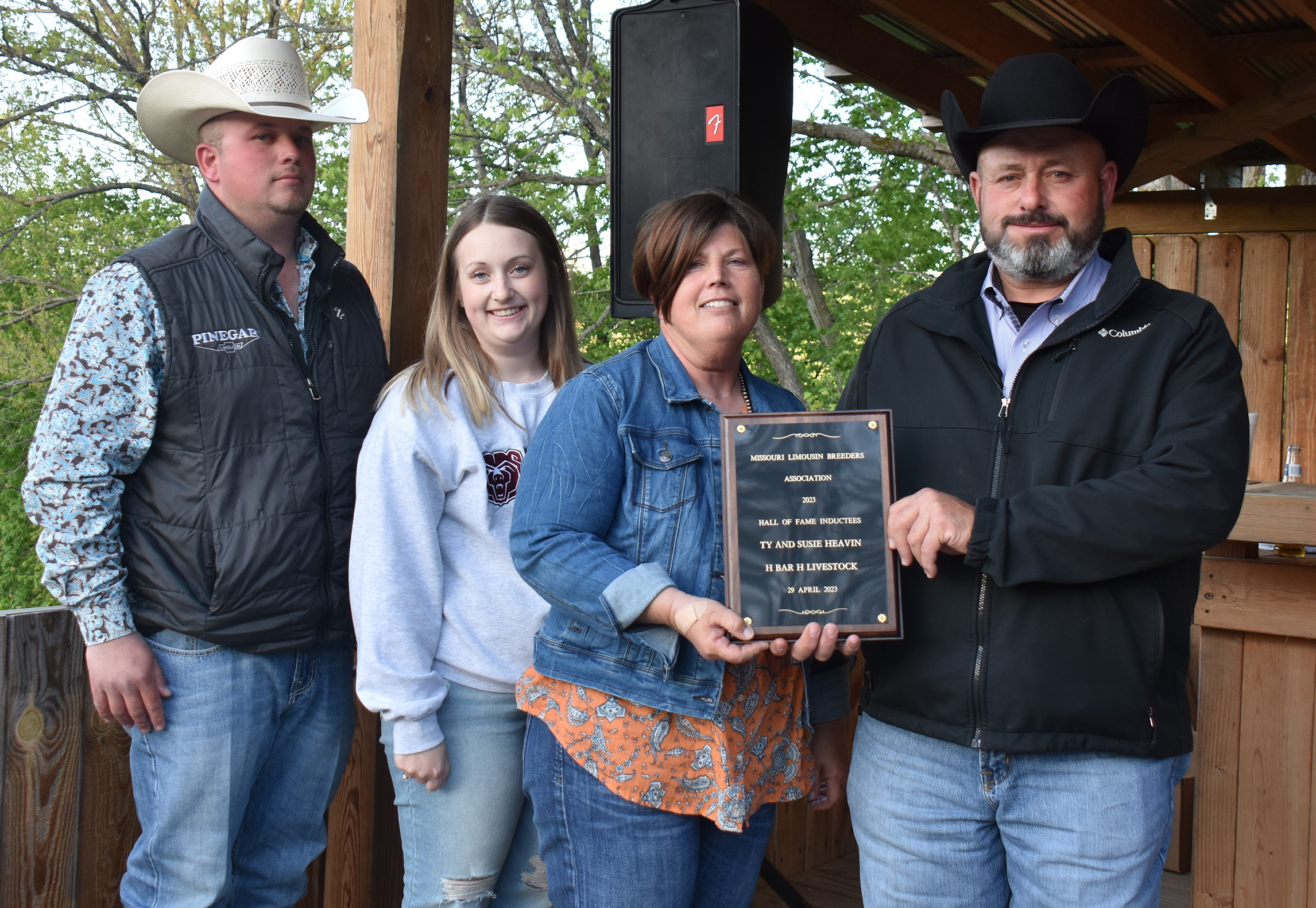 Ty & Susie Heavin Inducted into MLBA "Hall of Fame"
Ty & Susie Heavin, H Bar Livestock, of Springfield, Missouri, were inducted into the Missouri Limousin Breeders Association (MLBA) "Hall of Fame". They received the award at the MLBA annual meeting on April 29, 2023, at the Sand Springs Resort near Lebanon, Missouri.
The Heavins were the herd managers of Pinegar Limousin of Springfield, Missouri, for more than 25 years. Ed Pinegar hired Ty right out of college from Missouri State University, and that association with Ed was a blessing to both. Ty and Susie continued to manage the Pinegar herd after Ed's passing and they have now purchased the herd, beginning a new chapter in their life as H Bar Livestock. They continue to use Limousin genetics as their base foundation.
Ty and Susie and their children, Cody and Brooke, worked together raising Limousin cattle as well as participating in various cattle events including shows at the local, regional and national levels. They have exhibited outstanding Limousin cattle, winning many championships over the years. Ty and Susie said they were always happy to win a grand championship, but they took great pride when they were named "Premier Exhibitor" or "Premier Breeder".
Ty is a former president of the MLBA Board of Directors and remains on the board today. Susie has been co-chairman of several North American Limousin Junior Association (NALJA) national shows held at the Ozark Empire Fairgrounds in Springfield, and she is also active in the Limi-Boosters Association. They were named "NALJA Honorary Members" in 2020.
The Heavins are actively involved in the Green County Cattlemen's Association, the Ozark Empire Fair, MLBA, North American Limousin Foundation (NALF), and the Clear Creek Baptist Church. They received the Fair Grove FFA "Honorary Member" Award in 2020.
The people in the Limousin breed are known as Ty and Susie's "Limousin family". They have met countless people from all over the United States and have made strong connections with many of them. They are always first to lend a helping hand and will do anything for the juniors in the agriculture industry.
Congratulations to Ty and Susie Heavin on this well-deserved honor!