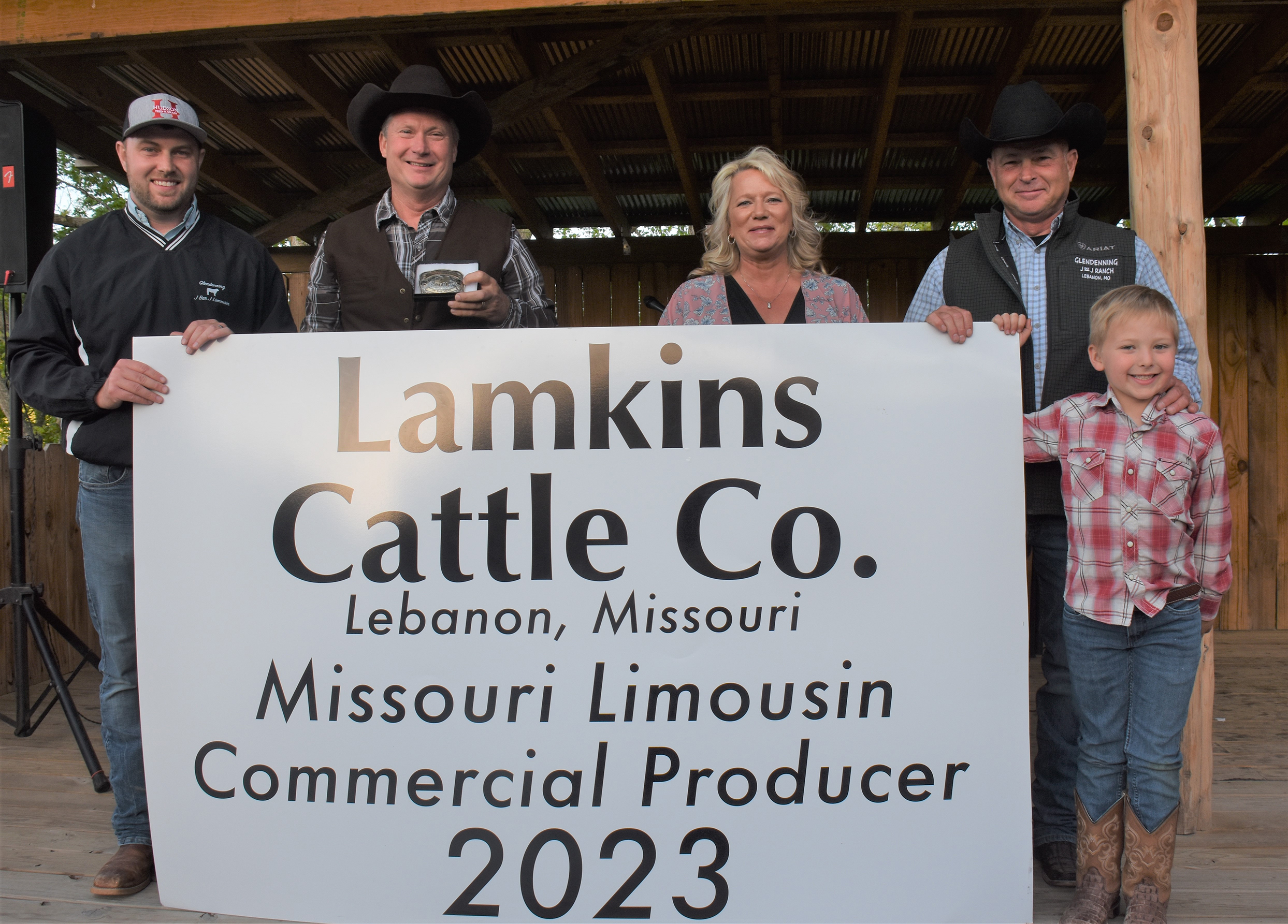 Lamkins Cattle Co. Receives MLBA "Commercial Producer of the Year" Award
The Missouri Limousin Breeders Association (MLBA) awarded the 2023 "Commercial Producer of the Year" Award to Lamkins Cattle Co. of Lebanon, Missouri. Phil and Krista Lamkins along with their son and daughter-in-law, Page and Amanda Lamkin and their children Aubrey, Brynlee and Case also of Lebanon, Missouri, received the award at the annual MLBA meeting on April 29, 2023, held at Sand Springs Resort near Lebanon, Missouri.
Phil started raising cattle by purchasing three bottle calves and two 400 lb. steers. In 2010, he bought four cows from Terry Graven of Lebanon. Since then the Lamkins have built their operation to custom producing hay on a thousand acres while raising a 125 herd of cows using both Limousin and commercial genetics.
Later, Phil bought several cows from Terry and the walking rights of CALO Brickyard. He increased his herd size by buying the spring calving herd from Mark Haden, Buck Ridge Cattle Co. of Rogersville, Missouri.
He has improved the quality of his herd by using Artificial Insemination and Embryo Transfer to raise quality heifers for his herd. Lamkins Cattle Co. markets their calves at the Interstate Regional Stockyards in Cuba, Missouri, and have regularly topped the market. They are in the process to begin backgrounding calves with the plan to search for Limousin or Lim-Flex sired calves.
Phil has also purchased cattle from the Heart of Missouri Sale, Great American Pie Sale, as well as from renown breeders Glendenning J Bar J of Lebanon and Linhart Limousin of Leon, Iowa.
The Lamkins like the yield and have used Lim-Flex bulls to improve marbling. The docility is a major factor in using Limousin genetics.
Congratulations to Lamkins Cattle Co. on their well-deserved recognition of "Commercial Producer of the Year"!